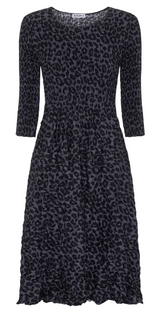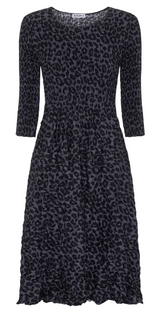 Alquema ADC544 LEOPARD 3/4 Sleeve Smash Pocket Dress
Best selling Smash Pocket Dress is stylish and ready to wear, everywhere. Feel free in this flattering and easy fit garment. Crinkle fabric using Japanese Shibori pleating is great for travel and stretches to fit at bust/waist, with flared skirt. Front patch pockets located at high hip.
Size 0 fits US Sizes 2-6
Size 1 fits US sizes 6-10
Size 2 fits US sizes 12-16
100% Polyester Reverse Satin
If your size is sold out, call or email us to ask if we can order it for you. Most of the time we can. (520) 432-3320 panterragallery@gmail.com
Caring for Alquema: All Alquema garments are unique, handmade and hand pleated with care. To maintain their beauty and longevity, we recommend you treat them well. Wash by hand in cold water with a dash of mild, natural detergent. Flat dry your Alquema and please do not tumble dry or apply any heat. To dry, lay the garment flat and leave in a shaded area. Once dry, store your garment in a cool, dry place. Hanging such garments for long periods of time may cause stretching at the shoulders and neck.