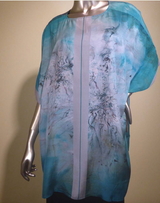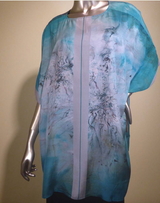 Cocoon House 667333 Teal Cloud One-Size Long Silk Tunic
These beautiful 100% silk tunics are timeless classics and the perfect addition to make an ordinary outfit elegant. Wear with a tank and leggings or slacks for an evening outfit. They are great for travel, very lightweight and they fold small.
Hand wash & line dry or dry clean.
 Cocoon House LLC designs, imports and markets fine silk women's clothing.  We partner with factory co-ops that provide good working conditions and fair wages for their workers. Cocoon House is a family business, and is led and staffed primarily by women. Cocoon House is a certified member of Green America.