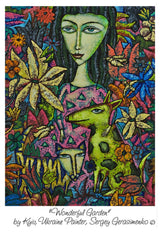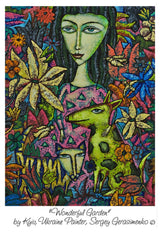 Sergei Gerasimenko WONDERFUL GARDEN Blank Note Card
Beautiful digital print garden scene with a pensive woman and her dog and cat. You'll find a little bird in there too, if you look carefully.
By Ukrainian artist Sergei Gerasimenko. Sergei's bio and artist statement is on the back of the card. Envelope included.
Due to special circumstances associated with these cards, please do not combine your Sergei Gerasimenko card order with any other PanTerra products.
100% of the after-shipping proceeds from the sale of these cards goes directly to Sergei.